My Role
Between 2017-2018, I worked on several Design Sprints for Oak, a meditation app by Kevin Rose (Digg, TrueVentures).
As Product Design Director at AJ&Smart, I contributed to product strategy, product design, Sprint facilitation and design management.
Designed with Jonathan Courtney, Fedor Shkliarau, Rob Hamblen, Isabell Hühnel. Illustrations by Sarah Kilcoyne. Developed by Taylor Robinson.
Oak is a meditation app. It guides users towards building a meditation routine, based on breathing exercises and traditional meditation techniques.
I worked on several remote Design Sprints for Oak's founder Kevin Rose (meditation advocate, Partner at True Ventures and previously founder of Digg). Our team turned Oak's first version into a refined, beautifully designed product that helps a community of tens of thousands of users to meditate every day.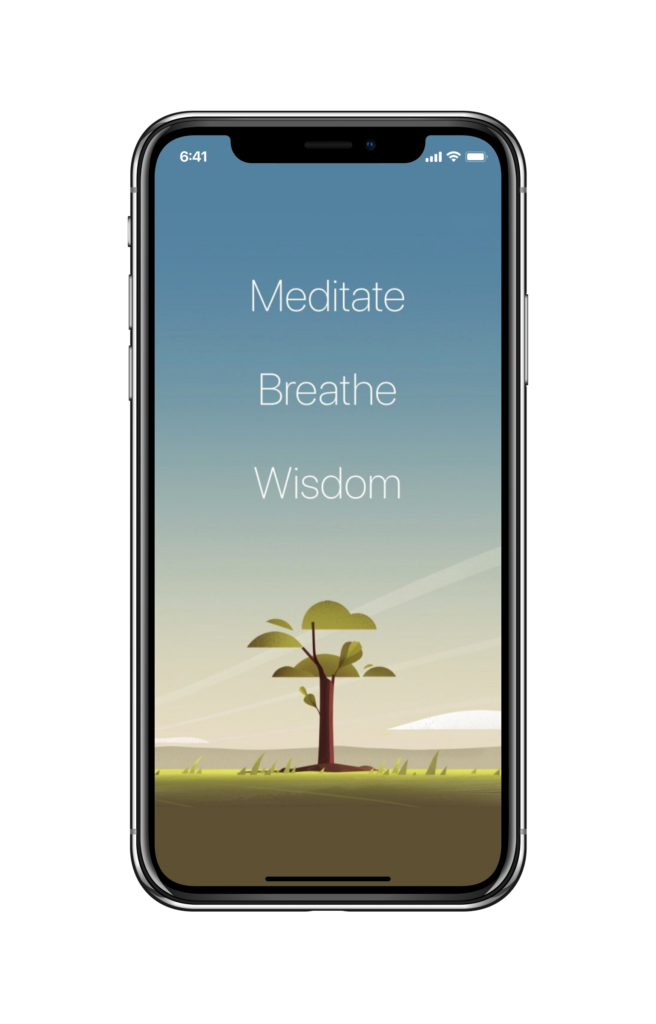 The Starting Point
The first version of Oak was a purposely focused and simple meditation timer. It primarily targeted an audience of body hackers and "meditation geeks".
For the next version, Oak's founder wanted to turn it into a versatile tool to make meditation more accessible.
The Challenge
When we began working on Oak, it had already gained some traction among experienced meditators that loved it for its simplicity.
Other meditation apps, like Headspace or Calm, had already successfully positioned themselves as meditation apps for a mass audience. To be successful in this crowded market, Oak needed to define a niche where it could provide value users couldn't find anywhere else.
To find out more about Oak's challenges, our team interviewed both experienced meditators and curious beginners, and asked them for their thoughts on Oak's first version. Their feedback allowed us to identify and prioritize the key challenges that we needed to solve.
Market positioning
Oak needed to differentiate itself from other meditation apps on the market, and offer a clear value proposition of its own. It was primarily intended for experienced meditators, however, we needed to find a way to appeal to beginners as well.
A lack of guidance and depth
Oak's early version left users to figure out themselves what type of meditation to try. It lacked resources on the different meditation practices. And like other meditation apps, it was too prescriptive to help users to meditate independently.
Since it takes time to notice the positive effects of meditation, many beginners give up too soon. Oak's first version didn't offer much assistance. Its prime incentive was the abstract notion of growing a stylized oak with each meditation session. Most beginners couldn't relate to this metaphor.
Our Approach
Throughout several Design Sprints, we built Oak's entire product strategy, user experience and art direction in iterative loops.
In each Sprint, we started by prioritizing a problem to solve, ideated and sketched new features and improvements, decided which approach to test, created an interactive prototype, and validated it through qualitative user testing.
Each new iteration was validated before handing over production-ready designs to the developers.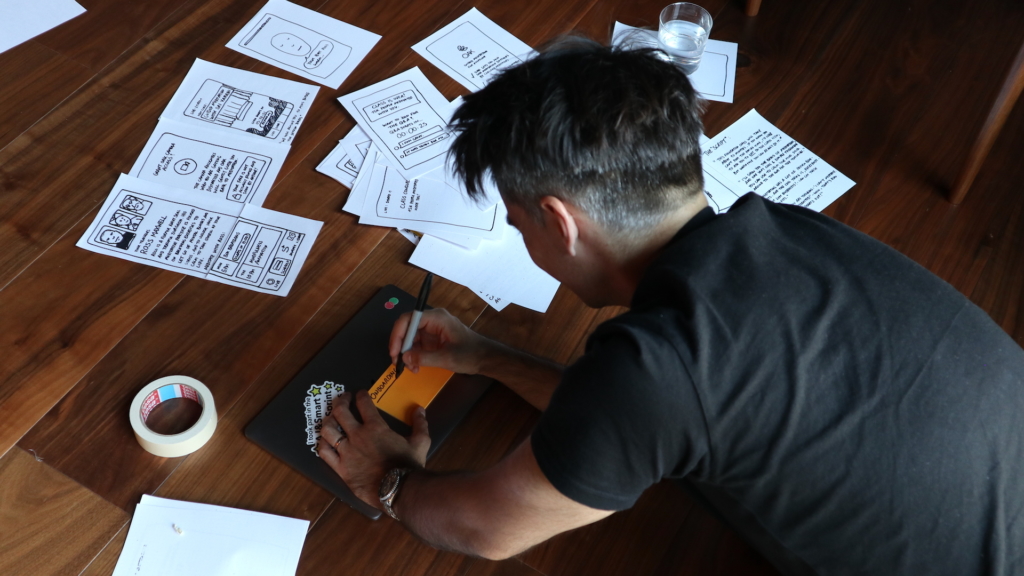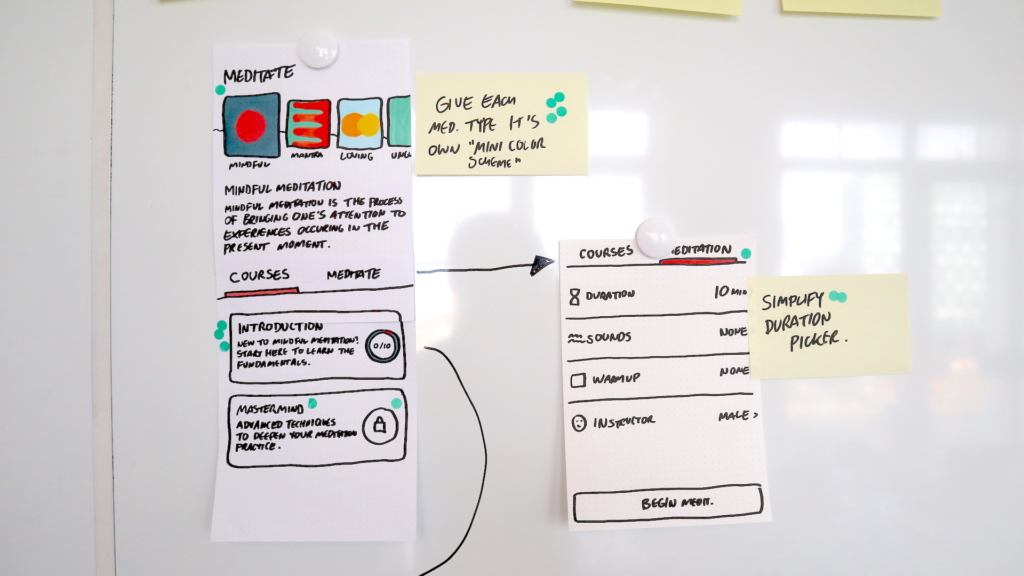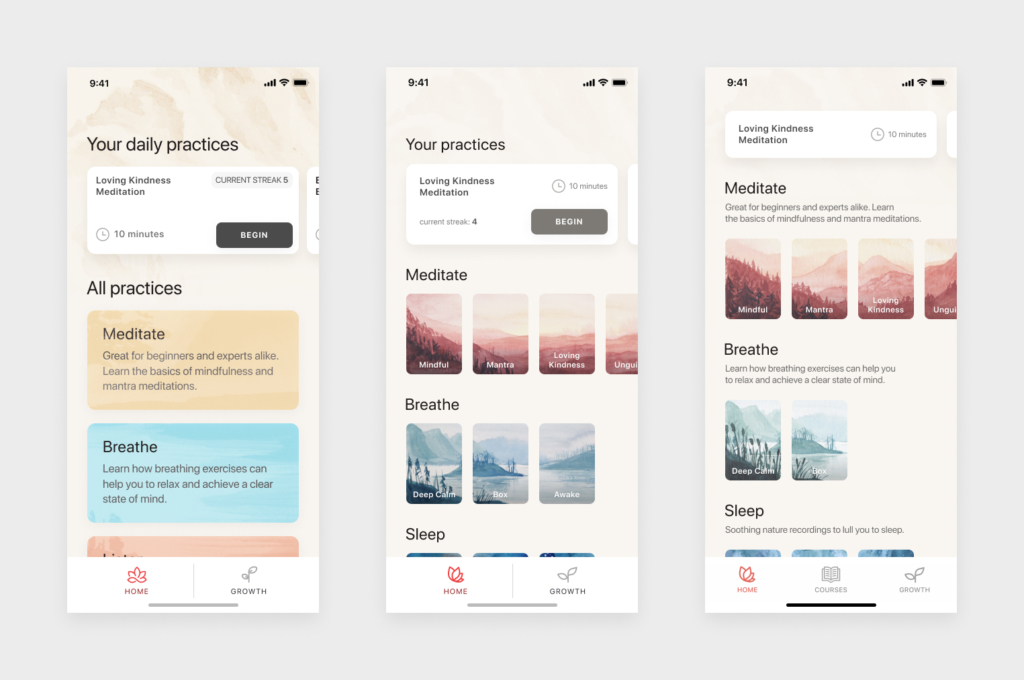 Defining Oak's Value Proposition
Our initial interviews with meditation experts and beginners indicated that apps like Headspace and Calm made meditation accessible for beginners, but were less appealing for experienced meditators. These practitioners wanted to deepen their practice.
Based on these learnings, we hypothesized that Oak could offer the most value as a companion app for experienced meditators that allows them to experiment with other meditation methods, while tracking and quantifying their meditation habit.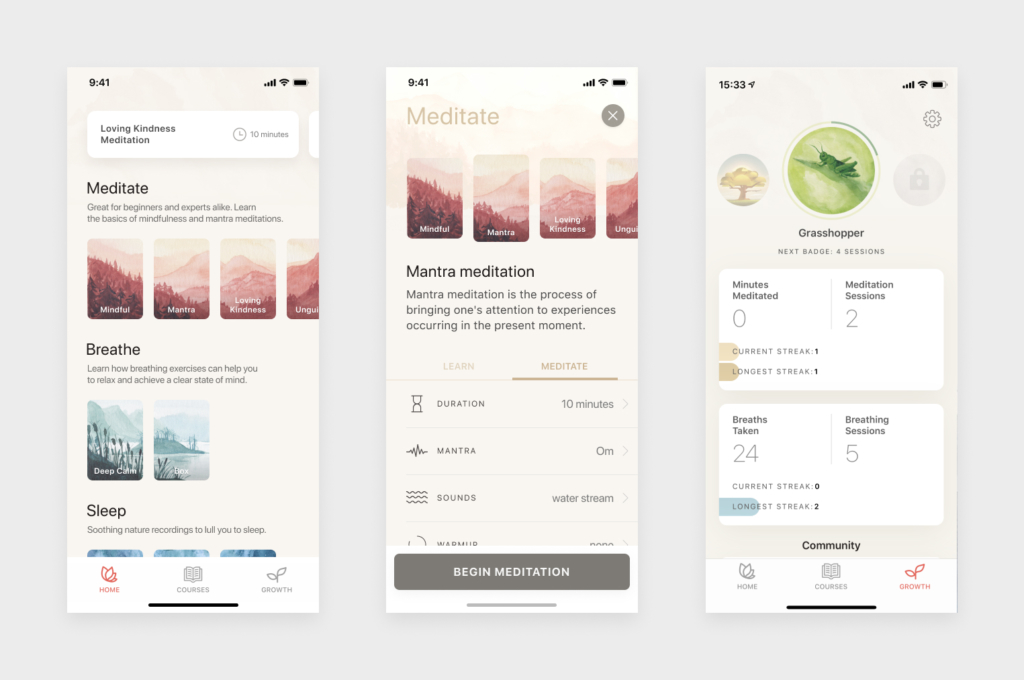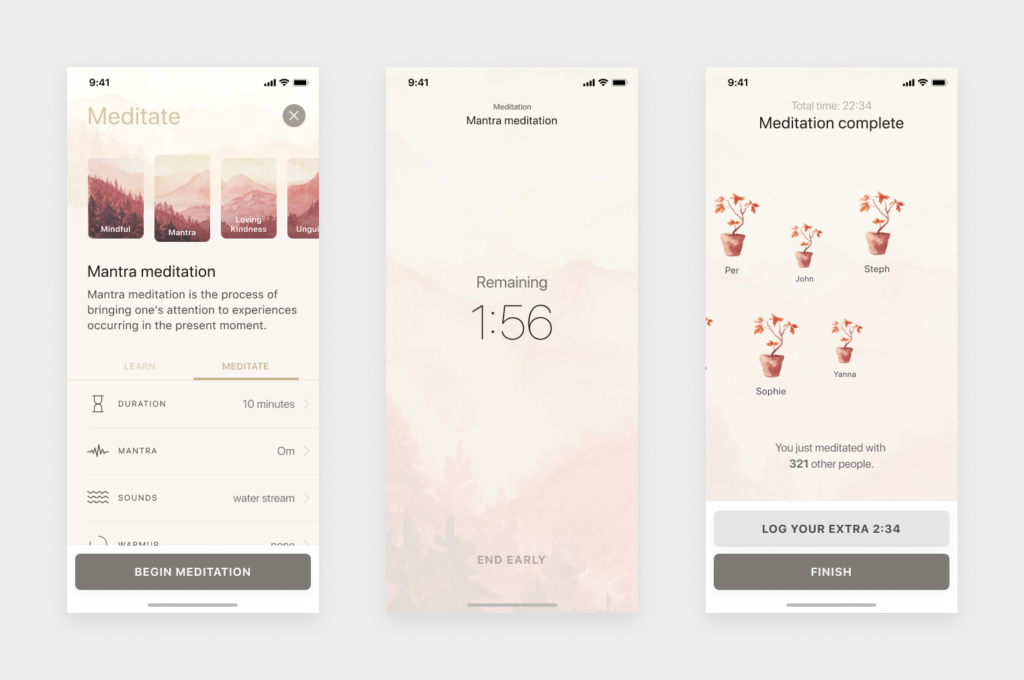 We designed Oak's new version to encourage experimentation with different types of meditation, breathing exercises, and relaxation techniques right from the home screen. A redesigned profile screen gave users an overview of their progress, previous sessions, and who else is currently meditating with Oak.
To support newcomers to meditation in building a meditation routine as well, we reframed meditation from a spiritual practice ("This is for monks and ascetics, but not for me") to an accessible tool for everybody, with tangible benefits grounded in human evolution and neuroscience.
In addition to this, we added short onboarding courses for each meditation type to help beginners get started.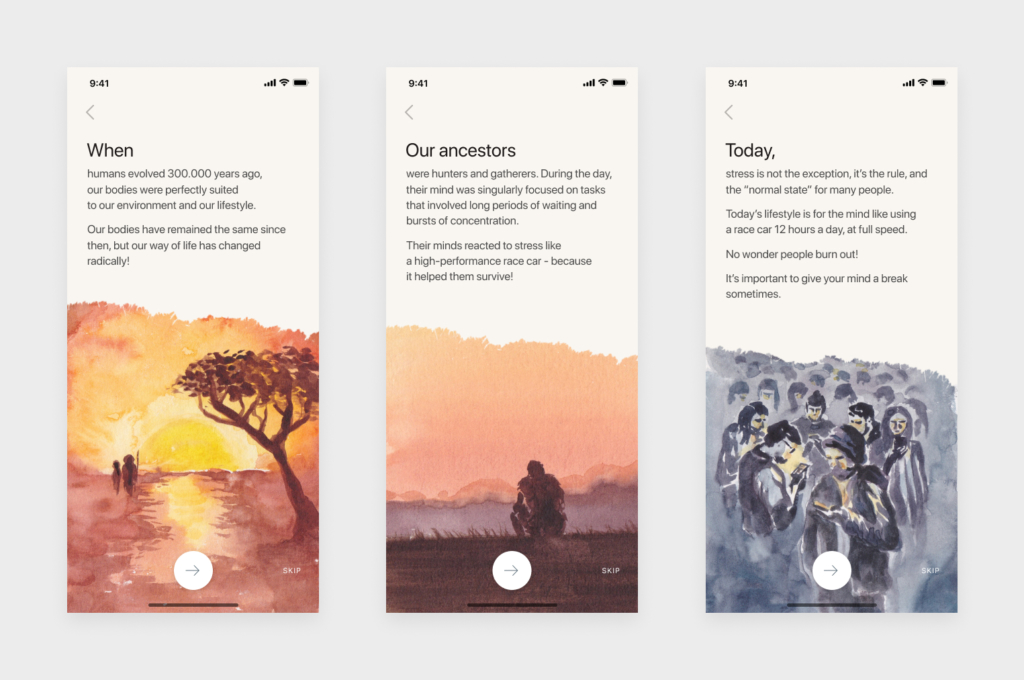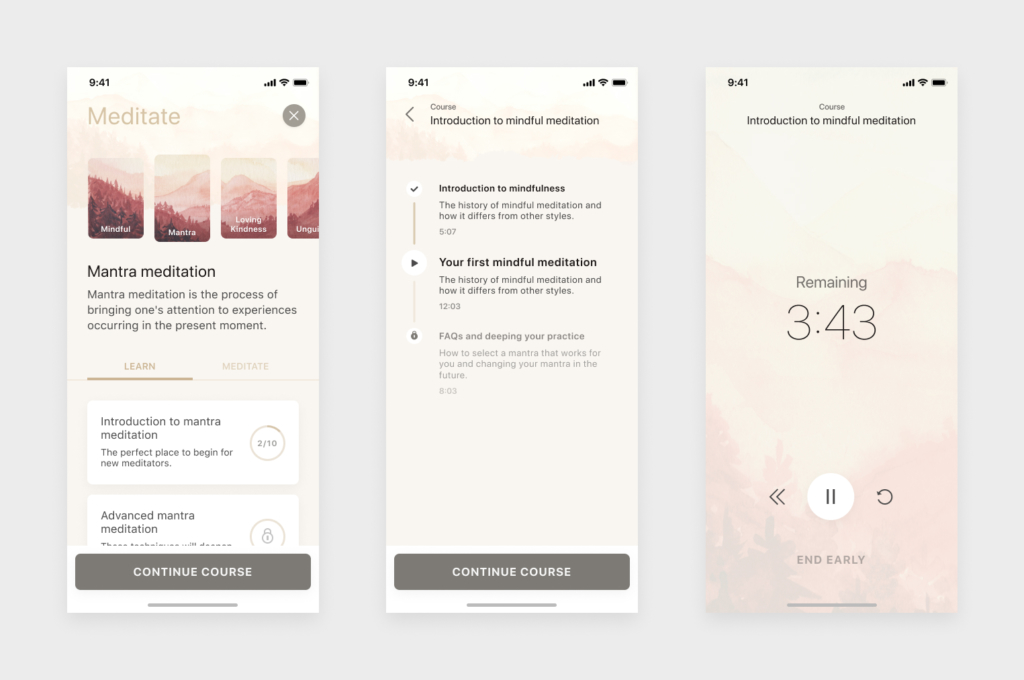 Design Direction
Aesthetics and art direction played a big role in differentiating Oak from other meditation apps. We wanted to remove anything that distracts users from Oak's purpose, and create a place where users could rest their mind.
We wanted Oak to look modest and simple, but also intimate and welcoming. For this, we researched temple architecture and classical landscape paintings and attempted to apply their aesthetics to digital technology.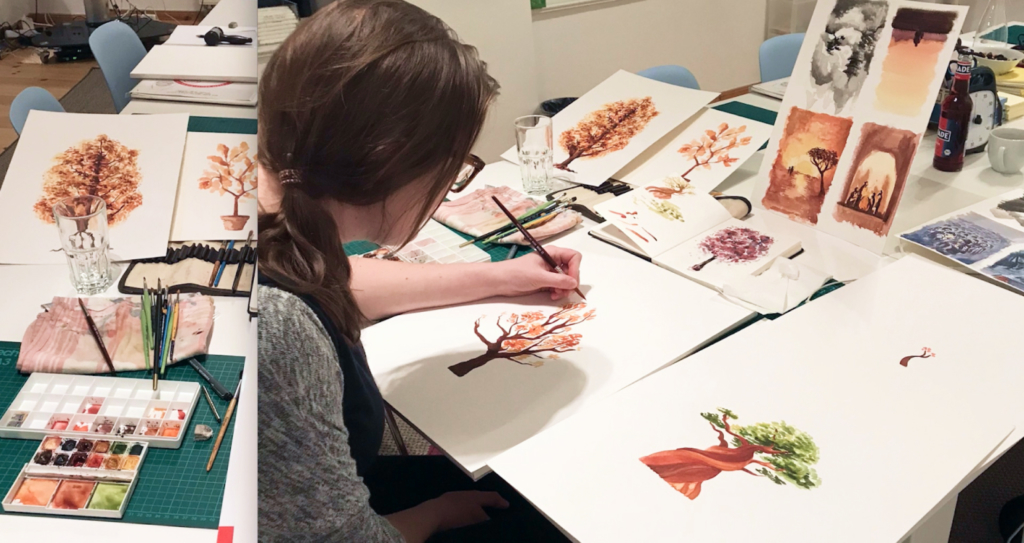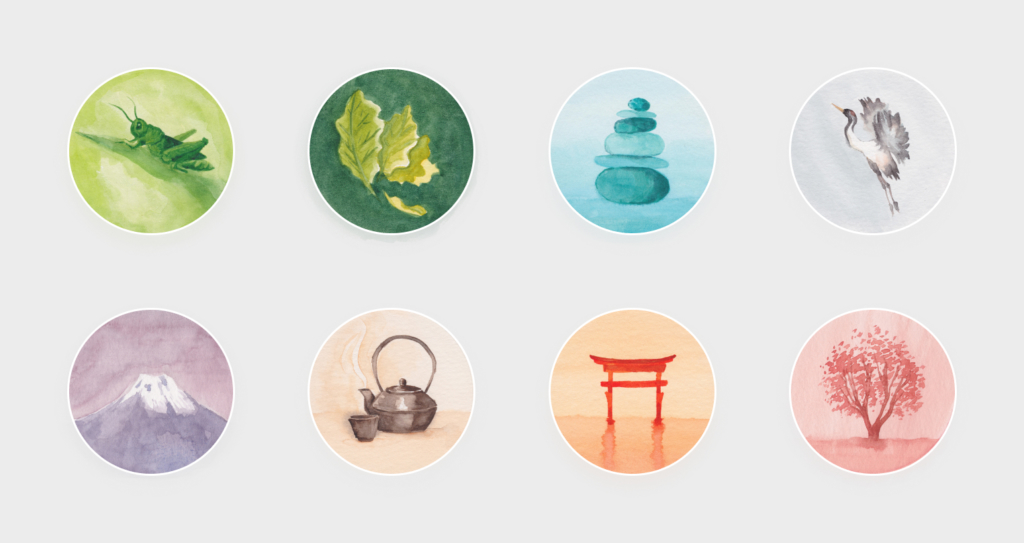 A key component of this was creating custom illustrations. We worked closely with artist Sarah Kilcoyne to define a unique, painterly look that conveys both warmth and calmness.
The hand-made backgrounds and illustrations were combined with calm and deliberate typography, and clean UI elements.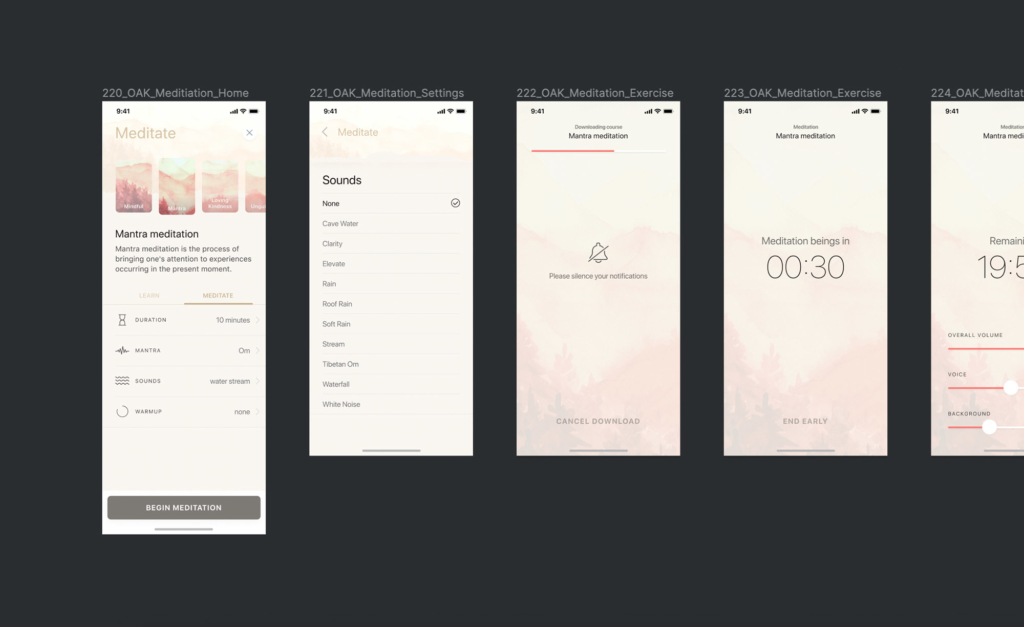 Results
After launching in 2018, Oak's redesign quickly build a loyal following of meditators everywhere. Tens of thousands of users engage with it daily. Oak received an exceptionally high rating of 4.8 out of 5, based on 21.9K reviews. In 2019, Oak was acquired by Big Sky Health.
Oak was featured in Apple App Store's "New Apps We Love" and Product Hunt's Product of the Day in 2018.
Kevin, our client, was very pleased with the outcome.